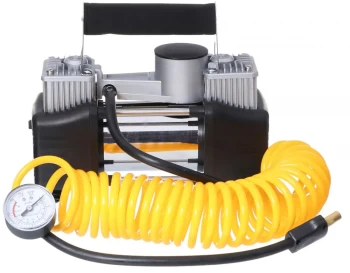 Accessories, External Accessories, Compressors
Ultra Heavy Duty 2 Cylinder 12v Auto Air Compressor 60 Liter per minute
Brand China High Quality
Twin head air compressor DC12V.
Dual cylinders.
Gear less with a direct drive motor.
Designed for use with big vehicles.
Maximum voltage and amperage of 13.8V/30A.
Extra power and airflow (60L/m).
Maximum pressure: 150PSI/10bar.
3.6m DC power cord with crocodile clips.
7.5m extension coil hose with gauge and quick release coupling .
Ideal for all cars / suvs / trucks bike
EGP 425