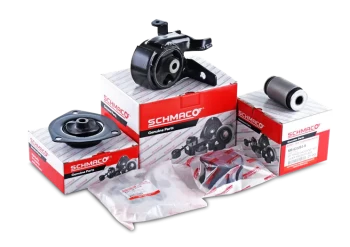 Spare Parts, Suspension and Brakes, Stabilizer Link Boot
Stabilizer Link Boot for Toyota Corolla 2001-2007. Very high quality Malaysian product.
Schmaco is an ISO certified automotive manufacturer in Malaysia specialized in producing rubber parts mainly to the automotive replacement market. SCHMACO manufactures a comprehensive range of rubber products for various application of Japanese vehicle which includes passenger cars, SUVs, 4-wheel drives and trucks. Among the types of products produced are Engine Mounting, Absorber Mounting, Spring Bumper, Lower Arm Bushing, Stabilizer Bar Bushes, Spring Bushes, Shock & Bumper Bushes, C.V and Steering Boots etc. 
Awards / Certificates
We are a holder of the esteemed ISO-9001-2000 QMS and the company is currently aiming to garner the widely recognized TS certification in its quest to improve overall quality standards and value for its customers. This represents our determination to meet and exceed our customer's expectations and our own monitoring standards. In staying true to our vision of delivering the best quality and manufactured products, we are always upgrading and maintaining not only efficient production methods but also deliver standards and improvement on our wide range of products.
Nevertheless, we constantly strive for quality excellent and improvement to meet OE specification in respect to durability and performance of our products. In fulfilling such criteria, our products have to be tested at LGM (Lembaga Getah Malaysia). With all the commitments, SCHMACO has being recognized and awarded by the LGM under category "Pengusaha Berjaya EKS and IKS" for the year 2009.
EGP 40